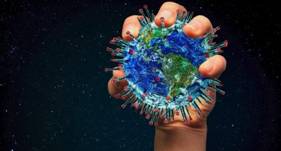 Researchers at the University of Maryland School of Medicine found that public health measures designed to reduce the spread of COVID-19 may be linked to a reduction in hospital admissions for COPD. The study, accepted for publication in medRxiv, suggests the significant decline is due to a drop in circulating seasonal respiratory viruses such as influenza.
The pandemic led to widespread implementation of stay-at-home orders, social distancing, and masking mandates. Along with reducing the spread of COVID-19, these public health measures also reduced the transmission of common seasonal triggers of COPD exacerbations.
To determine if these measures impacted COPD-related hospital admissions, researchers conducted a retrospective analysis of data from a large, multicenter healthcare system. They compared season-matched weekly frequency of hospital admissions for COPD before and after implementation of public health measures for COVID-19. Community viral prevalence was estimated using regional Center for Disease Control and Prevention test positivity data and correlated to COPD admissions.
What they found was a 53% decline in COPD hospital admissions, which "was most pronounced in patients with fewer comorbidities and without recurrent admissions," and led researchers to conclude that the "implementation of public health measures during the COVID-19 pandemic was associated with decreased COPD admissions. These changes are plausibly explained by reduced prevalence of seasonal respiratory viruses."
Added Insights from Dr. Nair: Simple actions such as wearing masks and limiting exposure to others are helpful in controlling viruses like influenza. Those with emphysema typically maintain the practice of limiting contact to avoid getting sick, especially in the winter. Thus, use of masks is a cost effective, safety measure worth employing for some going forward.