Archives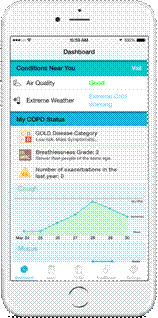 With the release of Apple's HealthKit, LifeMap Solutions, a digital therapeutics provider, and Mount Sinai partnered to create a self-management program called COPD Navigator. This iOS mobile health application that empowers patients to better monitor and manage chronic obstructive pulmonary disease (COPD) by "leverage[ing] evidence-based care guidelines, behavioral science, and patient data to deliver personalized, doctor-specified interventions with the goal of achieving better outcomes at lower cost".
With over 24 million people affected, COPD is estimated to cost the United States over $50 billion dollars annually in treatment, surgery, and hospital re-admissions. If patients are able to recognize the signs of an impending exacerbation and take action immediately, they can potentially avoid costly treatments and hospital admissions. So how will COPD Navigator help to solve this problem?
The app is designed to enable patients and care teams to intervene earlier and help payers control the costs of chronic disease management while improving patient quality of life. To do this, COPD Navigator "tracks patient data that includes symptoms, medication and treatment adherence, and overall quality of life. This information is presented in an easy-to-understand and configurable graph that empowers the patient to recognize patterns in their own health history, as well as to send this information to their doctor".
Additionally, the app also helps patients to "avoid environmental risk factors by providing real-time alerts about local air quality and extreme weather" and is equipped to accept inhaler usage information from any HealthKit-compliant, Bluetooth-enabled, "smart" inhaler device. This means that the app will know when the patient has used their inhaler and how often, helping the app track medication adherence.
COPD Navigator can help to avoid certain risk factors; it is only one part of a larger COPD platform that LifeMap has created. The larger platform includes a clinician dashboard for care providers, which is a HIPAA-compliant tool that shows the health status of patient populations. From the dashboard, clinicians can "flag high-risk patients, set rules for events-based alerts, and intervene early with the goal of reducing the risk of acute exacerbations".
The COPD Navigator app is currently expected to be available to the public in the second half of 2015.