Archives
In the March 7 publication of Respiratory Research, a proposed 5-step approach was introduced that aims to prevent fractures in chronic obstructive pulmonary disease (COPD) patients. This five-pronged approach would include case finding using clinical risk factors, risk evaluation, differential diagnosis, therapy, and follow-up in an effort to better identify and treat those COPD patients at a higher risk for fracture.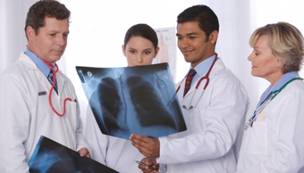 The prevention plan began by gathering an eight person panel which included three pneumologists, two rheumatologists, one endocrinologist and two clinical researchers, who together developed the first clinical guideline to prevent fractures in people with COPD.
This clinical guideline helped direct the study authors to craft the proceeding four steps of the plan:
1. Case Finding. To identify patients applicable for fracture risk, the writers recommended COPD patients over 50 who fulfill two or more high-risk factor criteria to undergo comprehensive risk evaluation.
2. Risk Evaluation. COPD patients recommended for risk evaluation are urged to undergo hip and spine dual energy X-ray absorptiometry (DXA) and spine imaging.
3. Differential Diagnosis. The panel pressed for secondary osteoporosis or other metabolic bone disease screening, since vitamin D deficiency, secondary hyperparathyroidism, renal insufficiency, and hypogonadism have been identified as risk factors for these conditions.
4. Therapy. To prevent fractures, clinicians should promote lifestyle changes for COPD patients, including quitting smoking, exercise, and lowering alcohol use. Daily intake of 1000 to 1200 mg of calcium and 800 IU of vitamin D should occur via diet or supplementation.
5. Follow-up. Physicians should be diligent in ensuring that COPD patients adhere to and are tolerating therapy. They should also determine how long therapy should go on, and weigh how safe their current regimen is.
The authors of the prevention plan concluded that based on their guidelines, an "evidence-based systematic clinical approach is easy to use by pulmonologists and should assist in decreasing COPD patients' fractures".