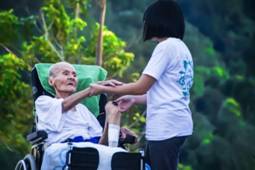 Caring for a loved one struggle with chronic obstructive pulmonary disease (COPD) is an extremely difficult job – one that you may doubt that you can handle. But being there for your loved one, offering your support and encouragement, can go a long way toward improving their quality of life and easing some of their symptoms.
And while it can be hard to watch someone you love suffer with an uncurable disease, there are things you can do to make things a little bit easier on them.
Get them to quit smoking — Tobacco smoke is the primary cause of COPD. If someone continues to smoke after they have been diagnosed, talk to them about quitting or research nicotine replacement therapies and local support groups on their behalf. If you smoke, set a good example by quitting, especially since secondhand smoke is equally harmful.
Be their exercise buddy — Gentle exercise can improve a COPD sufferer's breathing and strengthen their respiratory muscles. After clearing it with their doctor, invite your loved to take short walks around the neighborhood, gradually picking up the pace each time.
Stay healthy —Respiratory infections can worsen COPD symptoms, so it is important to avoid spreading germs to a patient or loved one. Get an annual flu shot and keep your distance if you have a cold or any other illness. If you get sick while living with someone who has COPD, disinfect all surfaces, don't prepare their food and always wear a mask.
Keep indoor air clean — Reducing air pollution at home can help someone cope with their COPD. Avoid using strong-scented cleaning products and stay away from air fresheners or plug-ins. Also be aware of what you put on your body — strong perfumes, lotions or hairspray can trigger a COPD flare-up.
Help make their house COPD-friendly — The simplest task can cause breathlessness in those living with COPD, so taking steps such as installing a shower chair can help a loved one conserve energy. Assisting with meal preparation and keeping their house free of any dust and debris that can make breathing difficult are also helpful.
Accompany them to a doctor's appointment — People with COPD have a lot on their mind, which can make it hard to remember everything a doctor tells them. Go along with them to appointments and take notes or bring along a tape recorder so nothing important is missed.
Educate yourself — Learning more about COPD will help you better understand what a loved one is going through and their limitations. The more you know, the more encouraging and supportive you will be.
Recognize signs of distress — No one wants to burden loved ones, which is why people with COPD aren't always honest about how they feel. Teaching yourself to identify ailments such as heart problems, respiratory infections or depression lets you know when it's time to encourage a loved one to seek medical attention.
Added Insights from Dr. Nair This article has some nice points but also some things with which I disagree. I don't like emphasizing that COPD is incurable. Aside from infections, diseases with surgical treatment (e.g., appendicitis) and many cancers, most diseases required some concession to be made to control them, whether it be taking medications, eating healthier or making lifestyle changes. COPD is no different. In fact, when you think about it, most ailments don't just disappear – they are, for all intents and purposes, uncurable. The key is you can live with them even if they aren't curable.
I particularly like the emphasis on the significant burden caregivers carry, and the importance of self-care. If you don't take care of yourself, you can't take care of others.
Read the complete Healthline story to learn more about taking care of a loved one living with COPD.