A trial published in the American Thoracic Society's American Journal of Respiratory and Critical Care Medicine reveals that a minimally invasive procedure may help patients with severe emphysema breathe better.
The study analyzes the use of a one-way valve that prevents air from entering diseased regions of the lung. This, in turn, enhances lung function and enables healthier areas of the lungs to expand.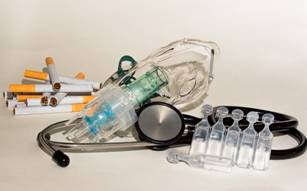 Previous studies highlighting the placement of the valves using a bronchoscope found that this therapy can be used as an alternative to lung volume reduction surgery. Patients with severe emphysema that participate in endobronchial valve (EBV) therapy "appear to experience similar improvements in lung function, shortness of breath, exercise intolerance and quality of life," yet do not experience the occurrences of morbidity and mortality which have been associated with surgery.
"EBVs have been shown to work in single center trials, but these studies tend to be performed at centers, and by physicians, with considerable experience, so the results may not be generalizable to other centers," said lead study author Samuel V. Kemp, MD, a respiratory physician and expert in interventional bronchoscopy at Royal Brompton Hospital. "What is interesting about this multicenter trial is that the results are at least as good as the single center studies, even though some of the investigators were new to the technique."
All study participants were ex-smokers over the age of 40 and had been diagnosed with severe heterogeneous emphysema. Out of the 97 participants, sixty-five received the valves and the remaining patients were provided with standard of care specific to each medical center's protocols for a patient that had received bronchoscopy.
Researchers discovered:
After three months, 55.4 percent of the EBV group had a 12 percent improvement in FEV1, the amount of air that can be forcefully exhaled in one second, compared to 6.5 percent of controls.
After six months, the percentage of those in the EBV group meeting the minimum FEV1 improvement was 56.3 percent, compared to 3.2 percent of controls.
The average increase in FEV1 in the EBV group was nearly 30 percent.
After six months, secondary endpoints among those in the EBV group were also clinically and statistically significant, including being able to walk nearly 80 meters longer in six minutes, retaining 750 fewer milliliters of air upon maximum expiratory effort, exhibiting less shortness of breath and reporting higher quality of life.
The most common adverse event in the EBV group was a collapsed lung, which occurred in 29.2 percent of the patients.
According to a recent study in the journal Chest, titled, "Reduced Risk of Acute Exacerbation of COPD After Bariatric Surgery: A Self-Controlled Case Series Study," the risk of hospitalizations and emergency room (ER) visits caused by acute exacerbations related to chronic obstructive pulmonary disease (COPD) decreases among obese patients who underwent bariatric surgery.
Nearly 6 percent of adults in the United States have COPD, 35 percent of whom are considered obese. According to studies, obesity may be a risk factor as it results in higher rates of acute exacerbations.
Researchers found that patients with COPD who lost weight realized enhanced outcomes, such as clinical scores and exercise tolerance. Yet, there are few statistics available regarding the impact weight reduction can have on additional issues associated with COPD, including acute exacerbations.
The study, conducted by researchers at Massachusetts General Hospital, analyzed 481 obese patients who were diagnosed with COPD and had undergone bariatric surgery between the years 2005 and 2011. The analysis studied each patient's risk of acute exacerbations in COPD (AECOPD) that resulted in ER visits and hospitalizations over a two-year period, which was "compared to the patient's risk in the pre-surgery period."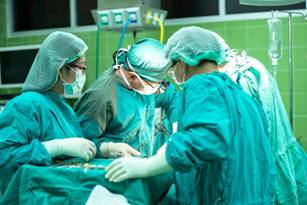 It was discovered that 28 percent of obese COPD patients were hospitalized or visited the ER due to AECOPD 13 to 24 months before their bariatric surgery. However, within 12 months of post-bariatric surgery, only 12 percent of patients were at risk of being hospitalized or visiting the ER.
Although the "mechanism behind weight loss and a decreased risk of AECOPD" has yet to be discovered, researchers suggest that weight loss may reverse the correlation between obesity and COPD. Lung function can be impaired due to obesity as it can alter gut bacteria and lung operations, create systemic inflammation caused by proinflammatory mediators, and increase the risk of infections and additional conditions.
It has been concluded that bariatric surgery among obese COPD patients can "reduce proinflammatory levels and decrease the incidence of obesity-related health problems", and ultimately lower the risk of AECOPD, hospitalizations and ER visits.
Various complications can arise when an individual has chronic obstructive pulmonary disease (COPD), including increased susceptibility to lung infections such as pneumonia.
Defining Pneumonia
Pneumonia is the eighth leading cause of death in the United States and most common among individuals over the age of 65, smokers, young children and those with lung conditions including COPD. The infection can present in one or both lungs and often results from the prevalence of bacteria or viruses. Although rare, the infection can develop when certain fungi are directly touched or breathed in. Further, pneumonia can occur as a result of another illness "such as flu, measles, pneumococcus, whooping cough and Haemophilus influenzae type b (Hib)."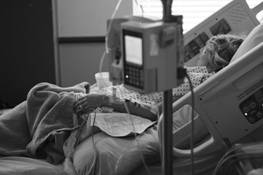 Pneumonia Symptoms
It is vital to contact your healthcare team if you are experiencing the following symptoms, as signs of pneumonia "can often be mistaken for a COPD exacerbation."
Fever or shaking chills

Rapid breathing or shortness of breath more severe than usual

Excess coughing producing lots of mucus

Change in color of mucus

Increased heart rate

Pain in a specific area or areas of the chest when breathing deeply

Nausea or vomiting

Diarrhea
Although it remains essential to recognize the signs of pneumonia and other exacerbations and receive timely care, the COPD Foundation recommends taking preventative steps to reduce the risk of infections.
These include attending regular appointments with your healthcare team, washing your hands, quitting smoking and receiving annual flu and pneumonia vaccinations. Additional preventative steps individuals can take are refraining from touching their eyes, nose and mouth, avoiding large crowds throughout flu and cold season, eating a balanced diet and carrying writing implements instead of using another individual's.
According to the recent study, "Association between Social Support and Self-Care Behaviors in Adults with Chronic Pulmonary Disease," published in the Annals of the American Thoracic Society, individuals with COPD who live with others and have a caregiver have a higher rate of participating in pulmonary rehabilitation and being active.
The study focused on 282 patients with COPD to determine if the prevalence of social support impacts the decision to participate in healthy behaviors.
"Patient engagement in self-care is the crux of COPD management," said senior study author Huong Q. Nguyen, PhD, RN, a research scientist at Kaiser Permanente Southern California and an affiliate associate professor at the University of Washington. "Our goal with this study was to identify factors associated with self-care activities, including physical activity, quitting smoking, participating in a pulmonary rehabilitation program, adherence to medications, and getting influenza and pneumococcal vaccinations."
Researchers recruited participants from two Veterans Administration hospitals, as well as two academic medical center who had been diagnosed with moderate to severe COPD. The study focused on the correlation between healthy behaviors and two social supports: "structural, the type of social network a person has such as being married or living with a partner or caregiver, and functional, the support a person perceives his/her social network provides."
Based upon the findings, researchers discovered that participants who lived with other individuals reported having enhanced functional support. The higher their functional support was, the higher likelihood that they had a pneumococcal vaccination and were less inclined to smoke. Further, participants that lived with someone took more than 900 steps more than those who lived alone. Participants with a spouse, partner or caregiver were also 11 times more likely to receive pulmonary rehabilitation.
"Clinicians should assess whether their patients have the necessary social support to do all they can do to remain healthy, "said Nguyen. "When social support is lacking, the health care team should assist patients in marshalling social support. Similarly, health and social policies should acknowledge and consider ways to support the nearly 45 million unpaid family caregivers in the United States who are responsible for the vast majority of the day-to-day care of their loved ones."
As the fourth leading cause of death, projected to be the third by 2020, chronic obstructive pulmonary disease (COPD) is a major and growing health concern. In fact, COPD impacts more than 5% of the population in most countries, with a $600 billion financial toll. The disease causesexaggerated chronic inflammatory response leading to airway irregularities. As lung function declines, patients will begin to experiencesymptoms of the disease progression such as increase of cough, shortness of breath and mucus production. Additional indicators of COPD include extra-pulmonary complications including cardiovascular disease and depression.
There is no current cure for the disease, yet recent studies suggest that adult stem cells may have the ability to reverse the effects of diseases involving inflammatory or degenerative parts, like COPD. The primary function of adult stem cells is to heal and maintain the health of the tissues they are found in. Existing throughout the body, stem cells can renew themselves through cell division, as well as differentiate into specialized cell types. They can also be harvested from an individual's own tissues, with the most plentiful source found in adipose (fat) tissue. "In fact, approximately 500 times more stem cells can be obtained from fat than bone marrow."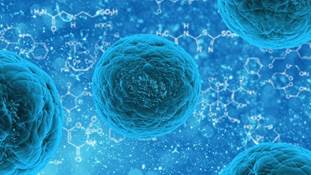 Stromal vascular fraction (SVF), a mixed population of cells containing most cellular elements of fat, can be isolated and obtained from fat tissue in 30-90 minutes in an out-patient clinic setting. This process can be completed using a mini-lipoaspirate technique, in which "tens to hundreds of millions of adipose-derived stem cells (ADSCs) can be obtained." After the procedure and preparation of ADSC, patients can be provided with either an infusion or injection.
After having been exposed to stem cell therapy, many COPD patients are often willing "to receive additional cell infusions if possible, due to a feeling of well-being associated with the injection." Previous studies have also shown that intravenous infusion of these cultured adipose stem cells can significantly improve smoke exposure-induced emphysema onset and progression.
Utilizing stem cells for regenerative purposes shows limitless potential. Patients now have access to innovate treatments that are compliant, effective and, importantly, safe. The research group involved with the studies have successfully and safely treated more than 7,000 patients. Stem cell treatments have increasing potential to become the optimal form of care concerning most degenerative diseases to truly enhance outcomes and quality of life for millions of individuals around the globe.
Click Here to Access the Full Article on Miami's Community Newspapers